Founded in the UK in 1946, InterContinental Hotels (IHG) is one of the world's largest international hotel groups with more than 6,000 hotels in more than 100 countries.
In this article, I'll share the strategy of InterContinental Hotels Membership – IHG One Rewards , how to quickly upgrade to IHG Platinum Member? How to get a discount when booking InterContinental hotels and more.
Luxury hotels: Six Sense, InterContinental, Regent, Kimpton.
High-end hotels: Hotel Indigo, Crowne Plaza, Hualuxe, EVEN Hotels, Voco Hotels.
Mid-range hotels: Holiday Inn, Holiday Inn Express,  Even Hotels.
Suites hotels: Atwell Suites, Staybridge Suites, Holiday Inn Club Vacations, Candle.
IHG One Rewards Membership Program
How to get accommodation and dining deals at IHG Hotels? The easiest way is to join the IHG membership program, which is free and you can enjoy member rates, campaigns, and rewards for stays and points (SNP).
There are three IHG membership programs:
IHG One Rewards – Register for free and can be upgraded through accommodation and dining.
InterContinental Ambassador – A paid membership program that costs $200 or 40,000 points.
IHG Business Rewards – Primarily for business travelers
Let's find out what benefits InterContinental members can get, and how to enjoy them wisely.
IHG One Rewards membership levels
In April 2022, the new IHG membership program has been launched, the name has been changed to IHG One Rewards, and the levels has been increased from 4 to 5 levels.
Regular Membership: Everyone can sign up for free.
Silver Members: Complete 10-night stays.
Gold Members: Complete 20-night stays or earn 40,000 Elite Qualifying Points.
Platinum: Complete 40-night stays or earn 60,000 Elite Qualifying Points.
Diamond Members: Complete 70-night stays or earn 120,000 Elite Qualifying Points.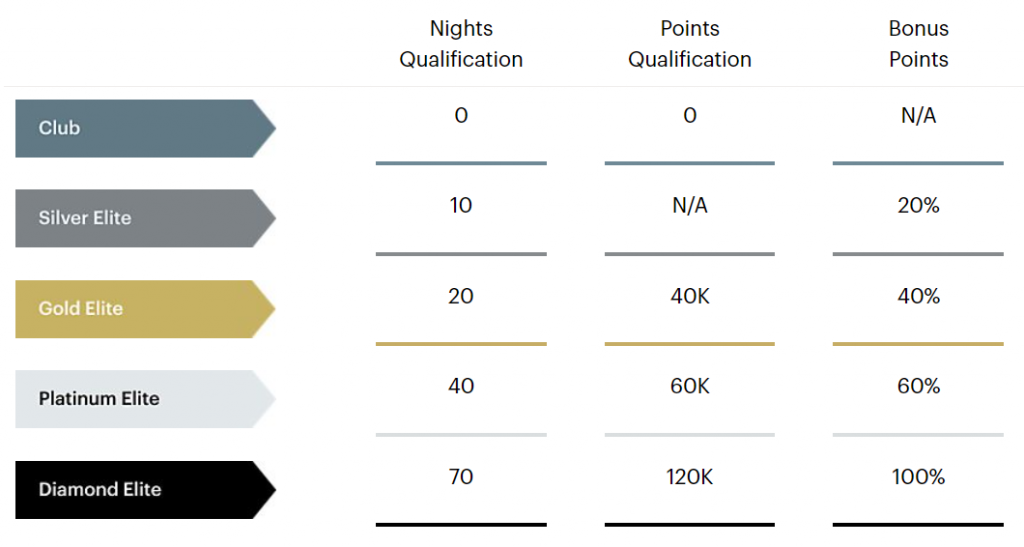 Already an IHG One Rewards member
If you were an IHG member before April 2022, your membership (Gold, Platinum and Rewards tier) will be automatically extended until February 2023 under the new policy. That said, Intercontinental Gold and Platinum membership tiers won't change in 2022.
Go Travel Video Tips:
After the launch of the new membership program, the difficulty of membership upgrades and relegation has increased significantly, for example, Silver members who used to be able to upgrade through points can now only upgrade through stays. In addition, upgrading to the Platinum Card, which originally required only 40,000 points, now requires 60,000 points, which is 50% more difficult.
While it becomes more difficult to upgrade new membership programs, there are ways to quickly upgrade IHG Rewards Platinum membership.
The new IHG Rewards Club program also has some added benefits, such as increased point rewards and increased membership benefits.
The benefits of IHG members are divided into two parts:
Member benefits provided according to the membership level, such as room upgrades, late check-out, etc.
Advanced Reward provided additional rewards after certain nights.
Club Membership: Member reservation discount; Extended check-out (2pm).
Silver Member: All benefits of Club Membership; 20% points reward.
Gold Member: All benefits of Silver Member; 40% points reward.
Platinum Membership: All benefits of Gold Member; 60% points reward; Complimentary room upgrade; Welcome amenities such as snacks or points.
Diamond Membership: Full benefits of Platinum Membership; 100% points reward; Complimentary room upgrade; Welcome amenities, such as snacks or points; Complimentary breakfast for two; Dedicated Diamond Hotline support.
The new Rewards Club membership benefits:
In this new membership program, the member benefits have been relatively improved. Let's explain in detail what each member's benefits are:
Earn Bonus Points: For every $1 USD spent at InterContinental Hotel to earn 10 Base Points, elite members above Silver can earn an additional percentage of Rewards Points, and the higher the tier, the more Rewards Points will be earned.
No Black-out dates for Reward Nights: Reward Night = Points for Free Night. On any date, as long as a room is available on the hotel's website, you can redeem your points for a free room.
Points do not expire: IHG Points are valid for 12 months and will expire if they are not increased or decreased. For members above the Silver level, there will be no expiration of points on the account.
Accumulated room nights can be carried forward: For members above the Gold Card, if the accumulated number of room nights exceeds the number of room nights retained, the extra room nights can be carried forward to the next year, that is, Rollover Nights. For example, a Gold member needs to stay 20 nights, and if you stay a total of 25 nights in 2022, in addition to the 20 nights used for relegation, the extra 5 nights can be counted in the 2023 membership rating.
Members rates and member promotions: InterContinental Hotels will often launch some campaigns that only members can participate in, you can find the TOP offers here: the latest IHG promotions, point rewards, updated weekly.
(New) Reward Night Discount: This is a new membership benefit, Platinum and Diamond members, who book with points at participating hotels, can enjoy exclusive discounts (from 10% to 30%) on Reward Nights at participating hotels.
(New) Exclusive support for Diamond Card elite members:When IHG One Rewards Diamond Members contact customer service, there is exclusive support to get a better membership experience.
Guaranteed Room Availability: IHG InterContinental guarantees a room for Platinum or Diamond members as long as the reservation was made 72 hours prior to arrival. 

The requirements for enjoying this benefit are:
Reservations made by telephone customer service are guaranteed by credit card.
The rate booked cannot be lower than the Best Flexible Rate.
Not applicable to Points Room, not applicable to Six Senses Hotel.
Room Upgrade: Platinum and Diamond members can enjoy room upgrade benefits and are applicable to room bookings made with points, but this benefit is still subject to the availability of the hotel on the day.
Welcome benefits upon check-in: Welcome benefits for Platinum members are either points (not available in Greater China), or drinks or snacks.
IHG One Rewards Members
 Advanced Rewards
Members receive additional rewards for every 10 nights they stay. Members can choose from bonus options such as points, dining credits, suite upgrades, and annual access to the Executive Lounge.
Executive Lounge access
If you need to choose one benefit, the preferred option must be the annual Access to the Executive Lounge, which applies to all IHG InterContinental brands.
This benefit is available for stays of 40 and 70 nights. Not only the members themselves, but also a guest can enjoy the hotel's Executive Lounge, which is basically guaranteed breakfast and afternoon tea, and even dinner.
Suite upgrade benefits
Members can use this benefit (valid for 12 months) to upgrade their regular room to a suite, or if there is no suite, they can upgrade to a deluxe room. The use of suite upgrade benefits is subject to:
Reservations must be made by contacting customer service between 14 days and 24 hours prior to check-in.
A maximum of 5 consecutive nights can be booked at a time.
Not applicable to bookings with prepaid rates.
Applicable to point rooms and free room vouchers.
The Platinum and Diamond 72-hour availability guarantee does not apply.
Prepaid prices (if the deposit has been paid) do not apply.
Food and beverage voucher
IHG One Rewards members can use this voucher to offset applicable food and beverage charges during their stay at the hotel. The single food and beverage voucher value are $20, which is valid for 12 months.
There is no limit to the number of vouchers that can be used per stay, each voucher can only be used once, cannot be split, and there is no change. Points cannot be earned for expenses offset by food and beverage coupons.
Reward Points
Rewards points are 5,000 or 10,000 and are approximately valued at $25 and $50.
Go Travel Video tips:
Whenever you complete your stay requirements, be sure to select The Milestone Rewards on the IHG website or app within 90 days.

For stays of 20 nights or more, it is recommended to choose the suite upgrade benefits first; For stays of 40 and 70 nights, A

nnual Executive Lounge access is recommended.

Since the Selection Bonus can be completed within 90 days, you can use the first time lounge access in the current year and the second time in the second year, so that you can enjoy lounge benefits for both years.
IHG Ambassador
The InterContinental Ambassador program is a paid membership program that is valid for 12 months. It can be purchased for $200 or exchanged for 40,000 points. This can be done through the InterContinental website or directly at the hotel reception.
InterContinental Ambassadors enjoy the following benefits:
Room upgrade guaranteed
Guaranteed late check-out until 4pm
Gift certificate for weekend stay
IHG Rewards Club Platinum Elite membership and corresponding Rewards Club benefits
Up to $20 usd in restaurant and bar credit per stay (Greater China hotels only)
Double occupancy, single occupancy rate
Greater China only: Breakfast for one person per night
Greater China only: Welcome Fruit Platter (Platinum Elite and above members only)
IHG Ambassador: How to use the free night?
As long as you join the IHG Ambassador program, the FREE night will be automatically deposited in your IHG Reward account.
Check the valid date of the "AMB Certificate", the Ambassador Complimentary Weekend Night Rate.

Make the reservations online.

Present your member number and ID when you check-in at the hotel. 
Besides, there is something you need to know about IHG Ambassador:
You need to stay

at least 2 nights on the weekend

at any IHG hotel, except InterContinental Alliance Resorts.

The weekend is defined as

Friday, Saturday, and Sunday

, except in the Middle East where hotels may define the weekend as Thursday, Friday, and Saturday

.

If you join the program in the hotel, the free night cannot be redeemed for the current stay. 

The complimentary weekend night is not transferable, only can be used for the IHG Ambassador member.

The complimentary night is valid for room and tax only.
Royal Ambassador
Depending on how much a member spends at IHG Hotels & Resorts, a small number of IHG Ambassadors will be upgraded to the Royal Ambassador level. There is no clear criteria for promotion, and the membership can only be made by invitation.
Here you can find the latest offers for IHG InterContinental Rewards Club members, which we update weekly.
How to use IHG Reward Points?
1. Redeem for free nights
The most useful way is to redeem points for a free night, and for unlimited dates. However, there is a limited inventory of free nights, which means that sometimes you may not be able to use this benefit.
IHG points are worth about $5/1000 points, and you can use this exchange price to assess whether it's worth redeeming them.
2. Use IHG Points for online purchases
You can use your points to make online purchases, including jewelry, electronics or gift cards. Here are some of the most exchanged items.

3. Redeem airline miles with IHG Points
If you frequently stay at an InterContinental hotel on business trips, the accumulated Intercontinental Points can be redeemed for airline miles and can be used on family vacations in the future.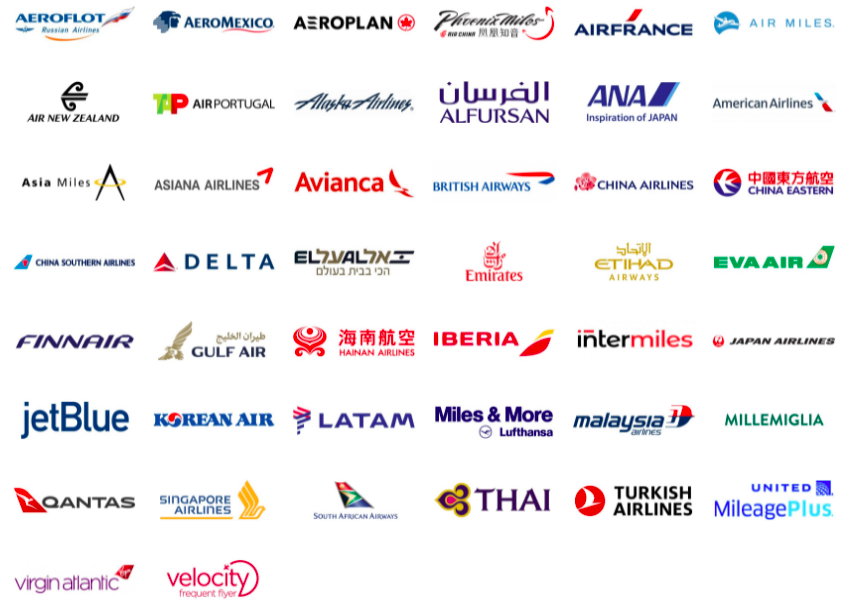 4. Use IHG Points to purchase IHG Ambassador Membership
As I mentioned earlier, InterContinental Ambassadors can redeem 40,000 IHG points.
5. Points Auction
Like Hilton, InterContinental also has a points auction platform, points can be used to participate in auctions, redeem housing packages, concerts, local specialty experiences and much more.
How to earn InterContinental Points?
IHG Credits are valid for 12 months. Generally, if there is no change in the points within 12 months, all points will expire. Now for members with Silver Card or above, the points are valid forever.
In fact, as long as there is any change (increase or decrease) in the number of points, even if you don't stay in a hotel, you can use the points to buy something, and the validity period of the points will be automatically extended by 12 months.
1. Points can be earned per stay at InterContinental Hotels
When staying at a hotel, most hotel brands earn 10 points (base points) for every $1 spent. In addition to base points, Elite members above silver can receive additional rewards. My advice is to record every expense on your room rate so you get more rewards points per stay.
2. Bonus points campaign
IHG often has point rewards campaigns, which is a quick way to accumulate points, e.g. you can earn 2x points when staying at a hotel during the event.
When booking with Rewards Points, you can earn up to 5,000 Rewards Points at participating hotels. 
3. Purchase points
IHG points can be purchased directly through the website and are priced at around $10/1000 points. Members can purchase up to 150,000 additional points to redeem for all or part of their stay.
I recommend buying at IHG points during campaigns, the lowest price is half price, basically only $5 can buy 1000 points.
4. Rewards Points Package
The Rewards Club Rewards Points Package is a special reservation price at which you can earn extra points, ranging from 1,000 to 5,000 points, which can be used to upgrade your status.
5. Others
Members can receive 1,000 points on their birthday each year. When IHG ambassadors  pay $200 to renew their membership, they will receive a 15,000 reward point, plus a 10% point refund for booking with points.
IHG One Rewards upgrade strategy
IHG Intercontinental Rewards Points Package: 12 nights plus Platinum
When booking an InterContinental Hotel, add Purchase Bonus Points or simply select Bonus Points Packages after selecting a room type to earn up to 5,000 Rewards Points per stay. This point can be used to advance to and maintain IHG Rewards Club Elite membership.
In other words, if you earn 5,000 points per stay, you can earn 60,000 points for at least 12 nights and upgrade to IHG InterContinental Platinum.
Intercontinental Ambassador Quick Upgrade: 0 night upgrade
InterContinental Ambassador is a paid membership program that is only available through purchase. ip.
Upgrade your membership at the beginning of the year
If within a calendar year, after meeting the upgrade requirements, members can directly upgrade to the next level. Membership is valid for the remainder of the current year, plus the entire year of the next calendar year. In other words, if you upgrade at the beginning of the year, the membership can be valid for up to 2 years. In addition, IHG will generally send an additional 2 months of membership validity.
For example, if the Platinum Card is upgraded in May 2022, the validity period of this Platinum Card = June-December 2022 + Full year of 2023 + January and February 2024.
Apply for membership on request
Staying for no more than 5 nights a year, it is recommended to apply for a CITIC IHG co-branded Gold Card and obtain the Gold Card membership of the Rewards Club. The Gold Card will receive a drink voucher and fruit plate, which will usually be upgraded to the next room type.
Stay about 10 nights a year, it is recommended to buy ambassadors directly, as long as the points obtained with the activity, you can generally get 40,000 points to redeem the ambassadors, in addition to sending a free night weekend accommodation coupon, in greater China will also get an additional breakfast.
Staying for more than 20 nights a year, it is recommended to book a point package to stay to relegate the Zhiyue membership, and the current Zhiyue membership can basically guarantee breakfast and lounge treatment.
The annual consumption of credit cards is high, and the use of PUF IHG co-brand card is based on the ratio of 8 yuan to 1 point, and the consumption is 600,000 yuan to relegation. Or rely on the CITIC IHG co-branded Gold Card in the ratio of 18:1, Platinum Card 10:1, world card 8:1, swipe card consumption to obtain grade points to maintain the level.
A more detailed guide to IHG InterContinental Rewards Club members can quickly upgrade their Platinum Card here.
Use points to book IHG hotels 
The IHG points can be used for hotel booking to get FREE nights (Rewards Night) with NO blackout dates, however, the free night inventory is limited, meaning there is a chance that you can't use this benefit.
Besides, you can also choose to pay your reward nights with part of the points and the rest in cash.
Pay part of your stay in points and the rest in cash. 
As long as you have more than 5,000 points in your IHG account, then you can use them to pay part of your stay:
Find your destination and hotel on the

IHG website

.

Choose the Points & Cash combination (rates vary per location).

Select your room type and book your stay.

The cash portion of Points + Cash is the immediate purchase of points and is charged in USD. 
If you cancel your stay, it can only be refunded in points only.
Use IHG points to purchase Ambassador Membership
As I mentioned previously, the Ambassador membership can be redeemed for 40,000 IHG points.
How to earn IHG Reward points?
Earn points from every stay at IHG hotels
For every 1 USD spent at IHG hotels, you can earn 10 points.
For every 1 USD spent at Staybridge Suites and Candlewood Suites, you can earn 5 points. 
My advice is to put every spend on your room bill, that's how you get more reward points from each stay.
Reward points campaign
You can participate in IHG points promotion, eg: earn 2 times points during the campaign period.
When you book with Bonus Points, you can earn up to 5,000 bonus points on your stay at a participating hotel. 
Purchase points
Get the rewards you need to do the things you desire by purchasing up to 150,000 extra points.
IHG credit card
Do you know if you apply for the IHG Rewards Club Premier credit card, you can earn up to 125,000 bonus points, plus a FREE night? Check more details here.
For more IHG hotels offers, please check this webpage, I'm pretty sure that you can find everything you need about IHG hotels and the latest offers.
If you have any questions, leave them in the below comment section.