Major hotel chains each have their own membership programs, including Marriott's Marriott Bonvoy, Accor's Accor Live Limitless, and IHG's IHG One Rewards. Registration is typically free, and once you join, you can accumulate points and enjoy member benefits such as complimentary breakfast and room upgrades.
If you're new to hotel membership programs, the variety of hotel groups and their programs might seem overwhelming. This article will provide the information you need to help you choose the hotel membership program that best suits your needs.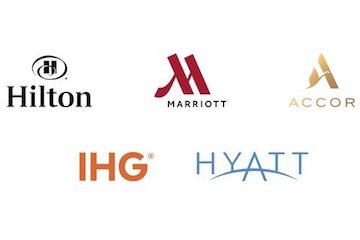 We've selected and compared 5 of the top global hotel membership programs. Detailed guides for each program can be found in our blog posts. Feel free to click on the provided links if interested.
Comparison of Hotel Brands and Quantity
The more brands a hotel management has, and the more quantity of hotels, means that there are more choices for becoming a member.
Marriott has 30 brands and 8,800+ hotels: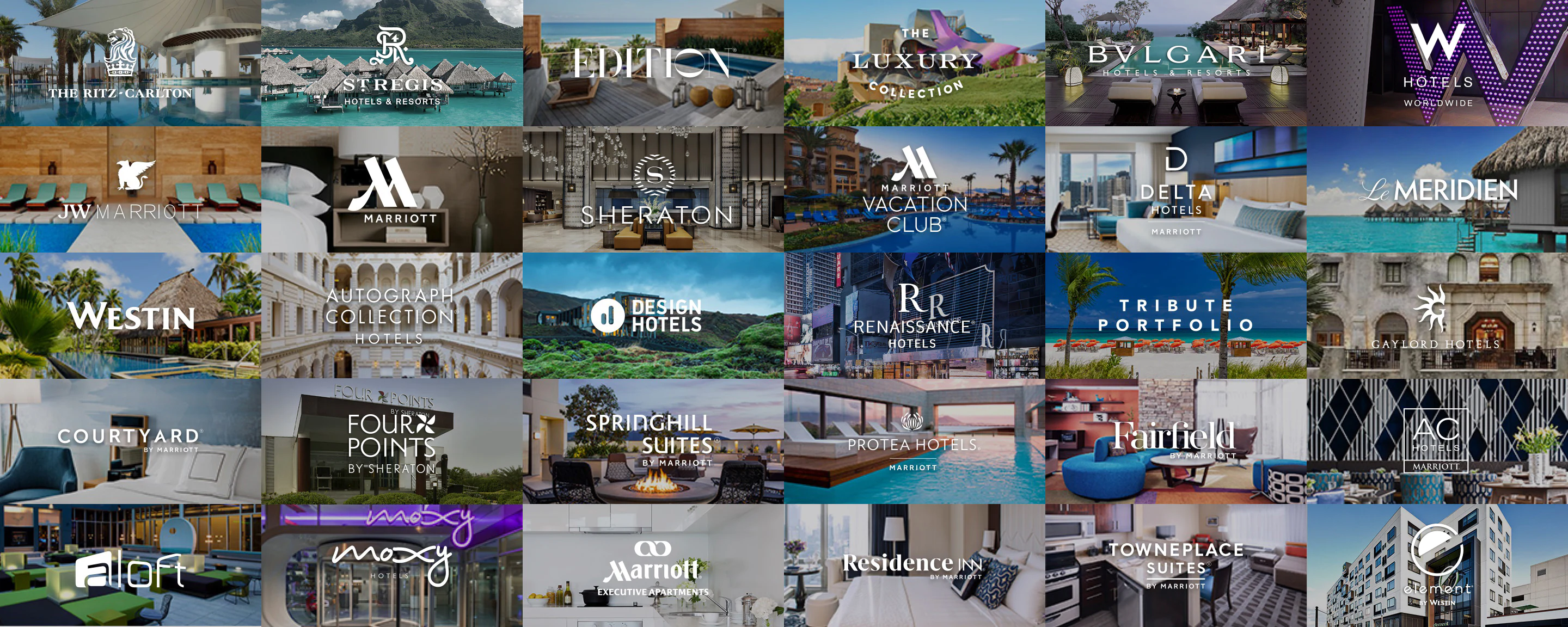 Luxury: Edition, The Ritz-Carlton, The Luxury Collection, Bulgari Hotel Bvlgari, Stregis, W Hotels, JW Marriott
Advanced: Marriott, Sheraton, Marriott Vacation Club, Westin, Le Meridien, Renaissance Hotels, Tribute Portfolio
Highlights: Courtyard, Four Points, Springhill Suites, Fairfield, Aloft Hotels
Extended stays: Homes & villas, Residence Inn, Marriott Executive Apartments, Element
Hilton has 18 brands and 6,100+ hotels:
Luxury: Waldorf Astoria, Conrad
Upscale: Hilton, DoubleTree, Embassy Suites Hotels
Mid-range: Garden Inn, Hampton, Homewood Suites, Home2 Suites
IHG brands has 14 brands and 6,000+ hotels:

Luxury: Six Senses, Kimpton, Regent, EVEN Hotels, Intercontinental
Upscale: Indigo, Crowne Plaza, Hualuxe, Voco
Mid-range: Holiday Inn, Holiday Inn Club Vacations, Staybridge Suites
Low-range: Holiday Inn Express, Avid, Even Hotels
Accor has 38 brands and 4,000+ hotels:
Upscale: Fairmont, Raffles, Switzerland, Sofitel, MGallery, Pullman, Grand Mercure, The Sebel, Banyan Tree, Angsana, Cassia, Mantis
Mid-range: Novotel, Mercure, Adagio, Mama Shelter, Tribe
Low-range: Ibis, Ibis Styles, Greet, Adagio Access
Hyatt has more than 1,200 hotels across 18 brands:
Luxury: Park Hyatt, Miraval
Upscale:Grand Hyatt, Hyatt Regency, Hyatt, Andaz, Thompson Hotels, The Unbound Collection by Hyatt, Destination Hotels
Mid-range: Hyatt Place, Hyatt House, Hyatt Residence Club, Hyatt Centric
In summary, since Marriott's acquisition of Starwood in 2019, whether in terms of the number of hotel brands, popularity, or the breadth of hotel distribution, it leads far ahead among the major hotel groups worldwide.
Looking at the number of hotels and brands, the ranking of hotel groups is probably:
Marriott – IHG – Accor – Hilton – Hyatt
Comparison of the Difficulty of Membership Upgrade and Maintenance
We have mentioned that all hotel groups can basically be joined for free. New members can accumulate points through hotel stays, participation in activities, etc., or complete a membership upgrade to enjoy the benefits of higher-level members.
The upgrade requirements of each hotel are different. Let's compare the requirements for upgrading to higher-level members of major hotel groups.
AccorHotels Hyatt members
Silver: Stay more than 10 nights or spend up to €800
Gold: Stay more than 30 nights or spend up to €2,800
Platinum: Stay more than 60 nights or spend up to €5,600
Diamond Card: from €10,400
Hilton Honors
Silver: Stay 4 times or stay 10 nights or accumulate 25,000 base points
Gold: Stay 20 times or stay 40 nights or accumulate 75,000 base points
Diamond: 30 stays or 60 nights or 120,000 base points
Lifetime Diamond: 10-year Diamond membership, can be discontinuous, and accumulates 1000 paid nights
IHG Rewards Club
Silver: Complete a 10-night stay
Gold: Complete a 20-night stay or accumulate 7,000 Tier Points
Platinum: Complete a 40-night stay or accumulate 30,000 Tier Points
Joy Card: Complete a 70-night stay or accumulate 55,000 Tier Points
Marriott Bonvoy
Silver: Complete a 10-night stay
Gold: Complete a 25-night stay
Platinum: Complete a 50-night stay
Titanium: Complete a 75-night stay
Ambassador Card: Complete 100 nights and spend $20,000 or more
World of Hyatt
Explorer: Complete a 10-night stay or accumulate 25,000 Tier Points
Adventurer: Complete a 30-night stay or accumulate 50,000 Tier Points
Globetall: Complete a 60-night stay or accumulate 100,000 Tier Points
Hilton membership can be upgraded according to the number of stays, that is, upgraded according to the stay. Each stay only needs to be over one night.
From the perspective of consumption, IHG and Accor require the least expenditure for upgrading.
In terms of the required number of nights and consumption, the order from the easiest to the hardest for upgrading and maintaining the level among major hotel groups is:
IHG – Hilton – Accor – Marriott – Hyatt
In fact, many hotel groups now have quick upgrade activities, and there is no need to actually stay for dozens of nights to upgrade. You can check the latest promotional information from each hotel group for details.
Hotel Points Value Comparison
Most hotel groups allow you to buy points with money, and there are several promotional events for buying points every year. Considering the cost of buying points and the price of redeeming hotels with points, we have summarized the approximate value of points for each hotel group:
Among all hotel groups, the points of Accor Hotels are quite special. Accor does not sell points, and the fixed ratio is 2000 points = 40 euros. The advantage of this is that members don't need to spend too much time understanding the exchange of free rooms in off-peak and peak seasons, and CAT1-8.
In addition to buying points, almost all hotel groups will occasionally launch some points events, such as spending the same amount of money and booking during the event period, you can enjoy double points for booking, or an additional 5000 points, etc. Be sure to participate in these events, and you can easily get several times the points.
To stay informed about the points activities of each group, keep an eye on the latest discount information updated on our blogs.
Combining the use and value of points, the ranking of major hotel membership plans is:
Accor – Hilton – IHG – Marriott – Hyatt
Comparison of Hotel Membership Benefits
There are many benefits for hotel members. Here I have selected a few benefits that I think are valuable, such as: executive lounge access, free breakfast, late check-out, welcome fruit or drinks, and so on.
According to this standard, the major hotel members need to reach the following levels to achieve part or all of these benefits:
Hilton Gold Card
IHG Platinum Card
Marriott Platinum Card
Accor Platinum Card
Hyatt Adventurer
In terms of free breakfast benefits, Hilton and Marriott are better; Hilton offers the greatest reward points, and Marriott is more generous with the executive lounge (in recent years, Marriott's executive lounge has often been overcrowded, which has been complained about by members). IHG's membership benefits have long been recognized as the worst among all hotel groups, and the breakfast benefits of the highest-level members cannot be fully guaranteed, it is entirely up to the hotel's decision.
From the official member benefits given, combined with the actual stay situation, the ranking of hotel benefits for members is:
Hilton – Marriott – Accor – Hyatt – IHG
Summary
If you have never dealt with hotel membership programs before, I suggest choosing the Accor Live Limitless membership from Accor Hotels as a starter. Because this membership plan is the easiest to manage, the amount of points that can be redeemed is fixed, no need to calculate. In addition, the quality and cost-effectiveness of Accor Hotels are good, especially in the Asia-Pacific region.
If you often travel and visit many cities, I recommend the Marriott Bonvoy membership from Marriott Hotel. After all, Marriott Hotel has the most locations, more cities are covered, and there are more choices.
If your hotel budget is mid-range and you are familiar with the calculation and gameplay of hotel points, I recommend the Hilton Honors membership from Hilton. The membership is upgraded relatively quickly, it is easy to maintain the level, and the membership benefits are relatively good.
In addition, if you already have a favorite, or a hotel you like, remember to register as a hotel member before booking. After all, registration is free and you can also earn points.
In addition, if you have a frequent visit, or a favorite hotel, remember to register as a hotel member before booking a room. How to book luxury hotels for cheap?