Marriott has a long-term promotion for new members, the Refer-A-Friend campaign.  In this post, you'll find out what is Refer-A-Friend? Is this Marriott Bonvoy promotion worth it? and how to earn about $70?
If you don't know what is Marriott Bonvoy yet, here is the guide for you, and everything you need to know about Marriott Hotel deals, and customer service info.
Refer-A-Friend campaign
For the new members:
If you have never registered as a Marriott member before, and are referred to Bonvoy by an existing member, you can receive 2,000 bonus points per stay in the first year, for up to the first five stays, that's a maximum of 10,000 bonus points, worth about $70.
For the existing members:
The existing Marriott Bonvoy member who did the referring can receive 2,000 bonus points for each stay the new member makes, for up to the first five stays. and can earn bonuses for referring up to five friends, for a total of up to 50,000 Bonvoy bonus points, worth about $350.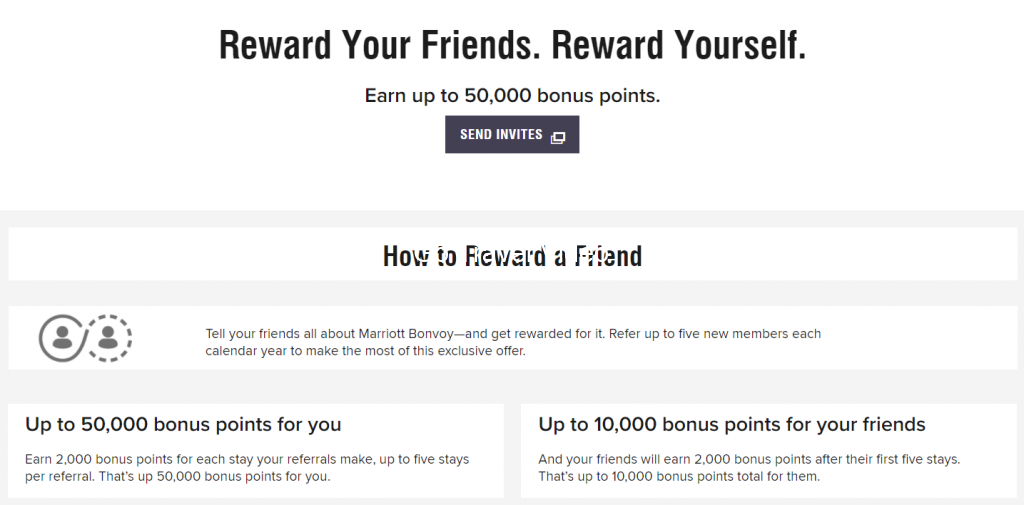 Campaign period: Long-term
Campaign link:https://www.marriott.com/loyalty/earn/reward-a-friend.mi
How to enjoy the Refer-A-Friend campaign?
In order to take advantage of this, the member doing the referring needs to:
send an invitation via this link, which requires putting the email address of the person you want to refer, plus your name, email address, and Bonvoy number (so you can be rewarded).
Fill in the email address of the person you want to refer, plus other basic information (Bonvoy card number).
Your friend will receive the invitation in 2-3 days, they need to click the link to register as Bonvoy members, and fill in your name and card number.
After your friend checks into the hotel, both of you can receive bonus points in your account.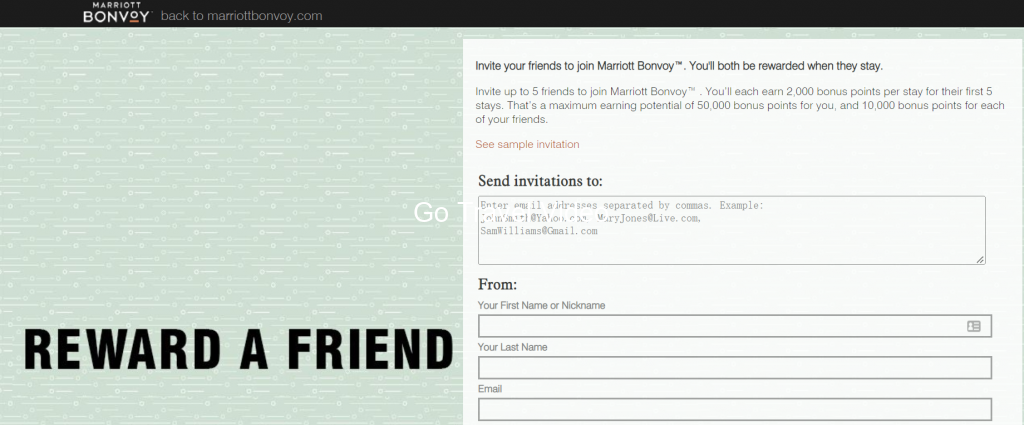 Go Travel Video comment:
Currently, this is the only new member promotion of Marriott, so if you're going to join the Marriott loyalty program, this offer is your best option. Obviously, some promotion is better than no promotion.
Bonvoy points value is about 0.7 cents each, that's why I value this campaign offers up to 70$ for new members, that is about $14 per stay.
Another good thing about this promotion is both the person referring and the person being referred will be rewarded.
Plus, this campaign is also in addition to all the other points earning opportunities through the Bonvoy program.
Please note that you need to book directly through Marriott's official channels to earn points.
It's always nice to get an additional bonus for joining a hotel loyalty program, so forward this post to your non-Bonvoy members now!
I'll update the best & latest offers from Marriott here, if you have any questions, please leave them in the below comment sections.