AKI Hong Kong – MGallery, a hotel owned by AccorHotels and the second hotel of the MGallery brand in Hong Kong, opened in August 2022.
If you are already an Accor member, remember to log in to Accor account before booking, and receive Accor points rewards and membership benefits. Also, don't forget to compare the price before booking.
Book the AKI Hong Kong hotels on Accor website
Compared prices on HotelCombined
AKI Hong Kong MGallery Hong Kong MGallery is located next to Novotel Hong Kong Century Hotel, the two hotels are operated and managed by a team.
AKI Hong Kong MGallery
AKI Hong Kong MGallery is located in Wan Chai, a 10-minute walk from Causeway Bay fashion shopping district and Hong Kong Convention and Exhibition Centre. Other nearby landmarks include the Hong Kong Arts Centre, Tamar Park, the Wan Chai Heritage Trail and Lockhart Road, which is lined with restaurants and bars. The façade of the hotel building is covered with glass curtain walls, and the "AKI" in the hotel's name means crystal clear.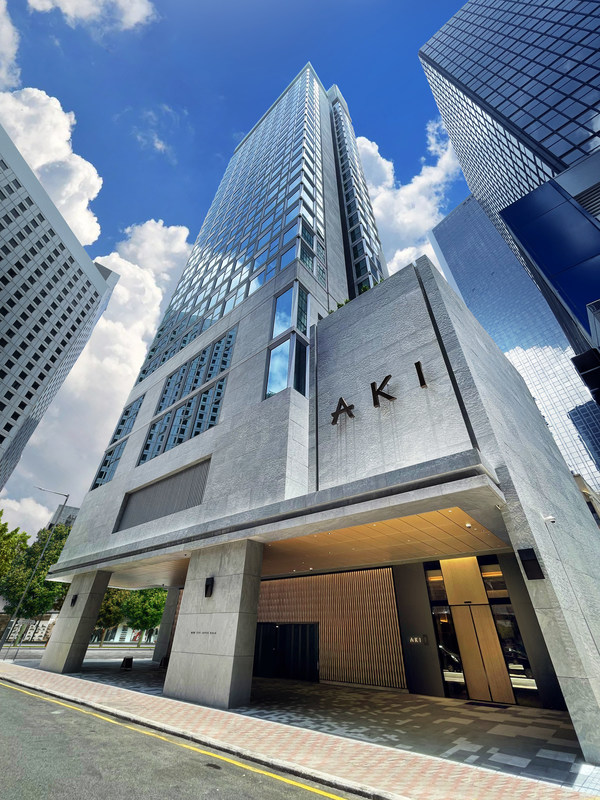 Features of AKI Hong Kong MGallery
This hotel features 2 Japanese-style tatami rooms that are rare in Hong Kong and feature luxurious mattresses on the tatami floor.
Uncle Ming's is a top-floor whisky bar that is a must-see for those who love premium malt whisky.
The hotel's restaurant specialises in tapas and japas, as well as a charming nightly sake bar.
Adjacent to the lobby there is a green garden view for relaxing.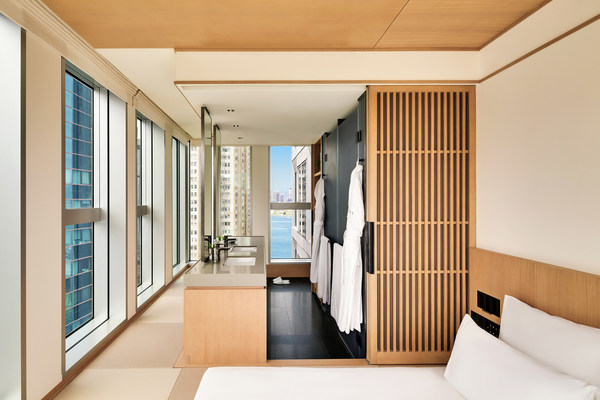 Rooms at The AKI MGallery are designed with expansive windows that not only bring in plenty of natural light, but also allow most rooms to enjoy beautiful city views, and some with 270-degree views of the city.
All rooms feature a king-size bed, a large flat-screen TV and Malin+Goetz toiletries in biodegradable bottles. The hotel's 173 rooms are equipped with tablet consoles, allowing guests to adjust the curtains and temperature to their personal preferences. When guests leave the room, the smart system will automatically close the curtains and turn off the air conditioning to save energy.
AKI Hong Kong MGallery restaurant and bar
Dining is a major feature of this hotel. Spanning an entire floor of the hotel, TANGRAM is inspired by the eponymous puzzle game Tangram, which means piecing together unique culinary elements.
Helmed by Executive Chef Keith Chan, the restaurant serves signature interactive breakfast and lunch boxes during the day; For dinner, international flavours include tapas and japas, as well as a lively nightly sake bar.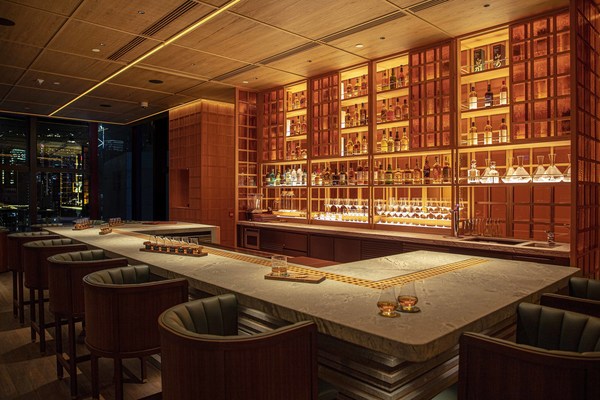 Uncle Ming's Whisky Bar is located on the top floor of the 25th floor of the Hotel, with a backdrop of twinkling skyscrapers, rolling hills and a beautiful harbour.
Guided tasting by sommeliers, guests explore more than 80 international wines, including extremely rare single malt whiskies, as well as sake, fine wines and champagnes.
Perfect for gatherings, there is also a private wine cellar where guests can store their favourite wines and offer a tempting array of cocktails and canapés.
Open co-working spaces in the lobby allow guests to stay connected to the business world. At the 24-hour fitness centre on the top floor, guests can enjoy the spectacular views of Wan Chai and Victoria Harbour while maintaining their daily workouts.
The Lobby Lounge serves healthy and delicious fresh juices and organic food for guests to enjoy anytime, anywhere. After nightfall, guests can enjoy a glass of wine and enjoy a quiet and relaxing time.